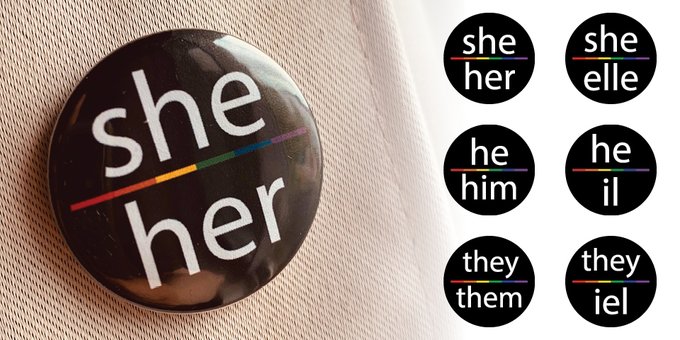 "Proper pronoun use was something we as medical students were all aware of, but we didn't receive formal education on this topic. As LORSHs we decided to take this initiative as an opportunity to educate ourselves and our NOSM community on pronoun use through an infographic and a subject guide" says Lucie.
Recognizing that an infographic wouldn't be sufficient to close the knowledge gap, they built a subject guide available through the NOSM Library. The subject guide was developed by Jennifer Dumond, Danica Desjardins, Aidan Goertzen and LORSH. It highlights evidence-based research and resources regarding Two-Spirit, Lesbian, Gay, Bisexual, Trans, Queer and other gender-fluid communities
(​2SLGBTQ+).
The uptake was high. "The response has been very positive. The library subject guide has had over 470 views so far and individuals have been thanking us for this one-stop-shop for educational resources and for starting the conversation. Over 240 people from NOSM signed up to receive a pronoun pin, including learners, staff, faculty and residents," says Lucie.
NOSM partners, health-care centres, hospitals and medical schools across the country have also taken notice. Health Sciences North (HSN) in Sudbury reached out and are working with Ashley and Lucie to launch a pronoun pin initiative at the hospital during Pride week. Two other medical schools have asked for guidance to create something similar at their school.
"Allyship means taking action and we hope to inspire other students to work on the projects they're passionate about," says Ashley. "I hope we inspire students to collaborate with other departments and staff at NOSM who have allowed us to make this initiative a reality. We couldn't have done this alone."
Lucie also encourages everyone at NOSM to reflect on their surroundings and what health inequities are occurring in their community. "As medical students, we don't have a lot of free time, but we chose to advocate for something that we're passionate about."
Download templates to make your own buttons!
We kindly ask that you credit NOSM and acknowledge our #RespectTheDifference movement.
NOSM is making pronoun pins part of the orientation package for new medical students. "We're hoping this will become part of the standard," says Ashley. "It is important for the incoming students to recognize that NOSM is an inclusive community. As future health-care professionals, we hope the pins will also spark the conversation regarding inclusivity early on in their career."